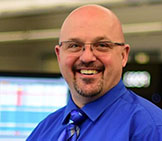 Director
Scotty Douglass – Biography
Scotty Douglass began his career in communications as a Radioman in the United States Navy serving onboard the aircraft carrier, USS Enterprise, from 1986-1990. Following his time in the Navy, he began his public safety dispatching career as a police dispatcher for the City of Santa Cruz in 1991. In 1996, Scotty transitioned to a newly formed Joint Powers Authority (consolidated) public safety dispatch agency in Santa Cruz County, California (now called Santa Cruz Regional 9-1-1). While there from 1996 - 2012, he held several positions in Dispatch Operations, the Systems Division, and in executive management. His positions included Public Safety Dispatcher, Communications Training Officer, Dispatch Academy Instructor, Lead Dispatcher, Emergency Medical Dispatcher, Systems Supervisor, Systems Coordinator, Systems Division Manager, Assistant General Manager, and General Manager. Scotty also served simultaneously as a Reserve Deputy Harbor Master for the Santa Cruz Port District from 1996-1999 where he provided police services to the Santa Cruz Harbor and surrounding areas.
In 2012, Scotty pursued a career opportunity in Cyber and Check Fraud Prevention and Case File Management with a well-known bank in Phoenix, Arizona. This provided him an opportunity to dive into the cyber and check fraud world where he gained a deep understanding of the risks in cyber security and digital protection.
In July of 2016, Scotty was appointed as Stanislaus Regional 9-1-1's (SR911) Executive Director and is now responsible for the management and oversight of 9-1-1 dispatch services and the public safety radio systems for 22 Law Enforcement and Fire Agencies within Stanislaus County.
Scotty possesses an Associates degree in Computer Systems Administration, a Bachelors degree in Management, and a Masters degree in Leadership. He is a certified facilitator, certified in Agile Project Management, and has successfully completed the Project Management Bootcamp course with the Project Management Institute. Mr. Douglass is also an active member with the National Emergency Number Association (NENA), and the Association of Public Safety Communications Officials (APCO).
Scotty is focused on providing a high-level of service to SR911's partners, employees, and community through active servant leadership. Efficiency, fiscal responsibility, and an unwavering "can-do" and positive attitude are at his core.